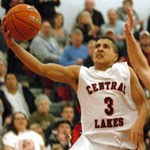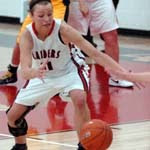 Men come back to win 17th

Marcus Ayala scored 10 of his game-high 25 points in a surge that led Central Lakes College to an 87-77 upset of the second-ranked Yellowjackets of Rochester (16-1) on Jan. 8 at CLC. The sophomore guard had a lot of help from fellow Arizonan Kwamaine Johnson on defense as the Raiders scrapped their way from a 13-point deficit (68-55). Freshman guard Johnson is a defensive gem on a team that knows what it takes to stop an offense. On the scoring side for CLC Nash Faulk and Kendall Brown added 15 apiece, and Maurice Hernandez had clutch baskets on his way to 13 points. The Raiders (17-0) were ranked fourth in the NJCAA Division III poll at the start. CLC is at Ridgewater Jan. 12, home vs. Riverland Jan. 15.
Women fall short

The CLC women's basketball team made a surge in the second half but couldn't catch the quick Rochester Yellowjackets, losing 79-66 on Jan. 8 in the CLC gym. The Raiders, who shot just 38 percent for the game, were led by Stephanie Neugebauer's 24 points and Nikki Pearson's 12 points and five assists. Rochester led at halftime, 34-20, and built up its lead to 44-24 at the 15:00 mark of the second half. The Raiders were able to cut the lead in half as Neugebauer's layup and follow up free throw pulled CLC to 54-47. The Yellowjackets (11-5) stepped up the full-court pressure and the Raiders were unable to run their offense. The Raiders are now 7-9 (0-2 in the Southern Division) going into the Jan. 12 game at Ridgewater (Willmar).