Drawing on a holiday tradition from over twenty years ago, Brainerd Community Theatre will present 'Home for the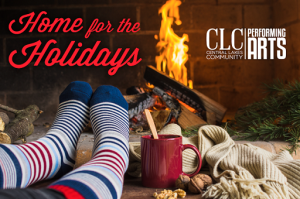 Holidays,' a holiday variety show featuring the talents of local performers. The show will be streamed free and on-demand beginning December 18 and continuing through to New Year's Day.
BCT Director Patrick Spradlin traced the show's origins to an annual event the theatre produced in the late 1980's through the mid-90's called 'Yuletide Revelry.' "My late colleague Dennis Lamberson produced this show every Christmas season, using local singers and dancers in a big extravaganza stage show. We looked at our season during the pandemic and decided that with all that has happened, this was a tradition worth reviving."
The company put out a call to the community soliciting talent for the show. "The response was terrific," said Spradlin. "We offered people the opportunity to either come to our Chalberg stage to video their performance or submit home-produced videos. We got a mix of both, from people of all ages and with a wide variety of holiday themed performances."
Spradlin noted that his BCT team was excited by the project and jumped in to make it happen. "Our technical director, George Marsolek, took the reins on this immediately. He gathered possible participants, built scenic pieces for a background, and scheduled all the video shoots. He made this happen." Theatre technician Curtis Jendro provided the audio and video support. "Curtis is invaluable to our program, and he has spent many hours recording, editing and producing the final product. It really is top-notch work."
The show features the talents of many different community groups and individuals of varying ages. Among the younger performers are Isabel Pence, age 10, playing guitar and singing 'Winter Wonderland.' 8 year-old Rosalie Flynn submitted a home recording, playing a violin rendition of 'Joy to the World' and featuring her father on guitar. Ireland Heap, a 2nd grader, offered her version of 'All I Want for Christmas is You,' while 2 year-old Juniper Marsolek performed a spirited rendition of 'Jingle Bells' with her mother Laura.
Adult performers include Rebecca Timmins singing 'The Christmas Song,' Mary Aalgaard and Zach Rude's home recording of 'Gesu Bambino,' Sarah Gorham's piano rendition of 'Christmas Time is Here,' and Lizzy Buscher's hula hoop routine set to 'What Will Santa Claus Say?'
Retired Central Lakes College music instructor Steve Anderson lent his considerable talents to the show. He accompanied current CLC vocal instructor Sarah Aamot singing 'Toyland,' and appears with Izzy Armstrong performing a jazz version of 'Santa Claus is Coming to Town.' In addition, Anderson recites in his patented 'Tairy Fales' style the immortal holiday poem 'The Cripe Before Nipness.'
Local ensembles are also an integral part of the holiday show. Members of the Legacy Chorale are featured in 'There's No Place Like Home for the Holidays' and 'We Wish You a Merry Christmas.' Tuba Christmas performs 'Jingle Bells' and 'Tuba Christmas Fanfare.' The Music General Dancers are featured in two numbers: 'Christmas Why Can't I Find You?' and the dancers' dads in a spirited version of 'You're a Mean One, Mr. Grinch.'