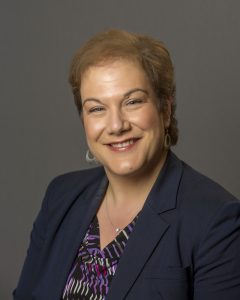 By Dr. Hara Charlier, President of Central Lakes College
I'm going to let you in on a little secret. For years, we at Central Lakes College have been hearing from students and alumni that there is just something different about CLC…Something that makes CLC special. Well, today, I'm going to tell you what that "something different" is: It's our employees.
Our staff and faculty are what give CLC that special sauce — that unique flavor that just keeps students captivated. Every one of our nearly 300 employees is all about students. They are dedicated to transforming students' lives, and they go the extra mile, every time. You can see that dedication every single day, both in-person and in virtual environments.
We make education personal; we always have. Despite the restrictions that COVID-19 has placed on our operations, we've worked hard to keep things personal, even when we cannot be in-person. I'm happy to say our employees have persisted and found creative ways to continue offering all of our varied course formats and great services to students.
One example is the registration process. We typically hold registration sessions in person at one of our campuses, with groups of up to 25 students. Of course, COVID-19 required adjustment and our employees rose to the challenge. Today, our advisors are meeting with students one-on-one to help each person through the registration process. Our enrollment representatives offer virtual one-on-one tours to students, allowing them to see the programs they are interested in and explore areas inside the college. This added to the already full plates of these special employees, but we love working with students, and it was important to do it right.
Further, our staff and faculty found new, personalized ways to reach out to students and connect before the semester started. This included sending videos, letters through email and regular mail, phone calls, and creating CLC swag boxes for new students. Inside the boxes were a CLC-branded face mask, water bottle, shirt, bag, hand sanitizer, magnet and more!
There is no question that the success of CLC is due to our dedicated employees and their commitment to students. The first couple weeks of the semester have gone incredibly smoothly, especially considering some of the unique challenges we face. Our enrollment is far better than expected, given the uncertainty. Our Staples campus has even shown a slight increase in the number of students. That's all because of our employees.
Every week, I hear stories of incredible impacts our employees are making on our students' lives. Recently, a student in our Heavy Equipment Maintenance and Operations Program reached out to say, " I recognized there was something different about CLC early on. Every time I struggle, I not only receive abundant help, but also patience, determination and a boat load of encouragement that I've never experienced before."
Another alumnus wanted to express his appreciation for the kindness that one of our liberal arts instructors showed during a very dark period of depression. The instructor worked closely with this student, making sure the student had support and was able to finish the course while addressing mental health needs. The student was grateful for the personal support and encouragement. Of course, that's just who we are.
In our Welding Program, our instructors made sure to continue with the time-honored tradition of unboxing new tools and gear. Even with social distancing and face coverings, this tradition is always a big production and something our students look forward to. There is so much excitement in the air as they uncover shiny new toolboxes, filled with everything they need to be a successful welder. Students get to keep these important items after they graduate, so they are ready to go and have all the supplies they need to start their careers.
There are so many examples of employees going above and beyond to make a difference in our students' lives. Collectively, this work equates to our special sauce, what makes CLC special: We are friendly, we know you by your first name, and we truly care about each and every student who walks in our doors or joins online from remote locations.
As we welcomed September by celebrating Labor Day, it seems appropriate to close the month with our hats off to our colleagues. Thank you!
Here's some good news for those who haven't registered for classes yet: There is still time to sign up for some of our late start courses, which include Culinary Arts and some Liberal Arts courses in Physical Education and College & Career Studies. Find out more about these courses online at www.clcmn.edu or give us a call at 218-855-8000.
In these uncertain times, there is something you can rely on: CLC is here for you. Always.