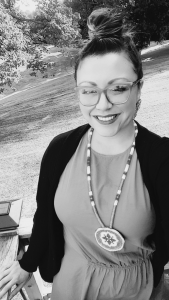 Central Lakes College presents Cultural Thursday: History of the Jingle Dress with speaker Adrienne Benjamin at noon on Thursday, Nov. 14 in the Chalberg Theatre, Brainerd campus. This event is in conjunction with Native American Heritage Month, and is hosted by the CLC Office of Diversity, Equity and Inclusion.
The event is free and open to the public.
Amikogaabawiikwe (Adrienne Benjamin) grew up in Chiminising, one of the district offshoots of the Mille Lacs Band of Ojibwe. She has received numerous artistic fellowships, programmatic awards, and recognitions for her community work. Her artistic work is currently on display in the Ziibaaskaa'igaanigooday exhibit at the Mille Lacs Indian Museum, which highlights the four colors of jingle dresses that came to the Mille Lacs people in a dream.
Benjamin will tell this story of how the jingle dress came to be and how the tradition still exists and flourishes. She will be joined by Darcie Kaye Big Bear, who will give a demonstration of an Ojibwe dance with the jingle dress.
For questions on this presentation or the Cultural Thursday series, please contact Tracey Kloeckl-Jiménez at 218-855-8183.