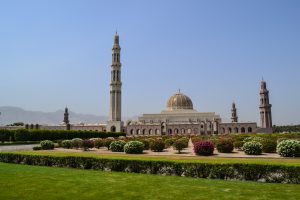 Central Lakes College will begin the 2019-20 Cultural Thursday series at noon on Sept. 5 in the Chalberg Theatre on the Brainerd Campus.
Staples-Motley High School graduate Tera Weyer spent the past two years in the Arabian Peninsula and will be speaking on her experiences in the country of Oman, among others. Not only did Weyer attain an intermediate/mid-level of proficiency in her studies of Arabic during that time, but she also gained several insights into Muslim religious beliefs and practices and elements of Middle Eastern cultures. She met many individuals with whom she was able to share more about her Christian religious beliefs and practices, in addition to sharing elements of Minnesota culture.
"The Sultanate of Oman, also known as the Land of Frankincense, is one of the most beautiful and little-known Arab nations in landscape, culture and tradition," Weyer said. "Come and discover the aspects of life in Oman, the breathtaking geographical features, the unique cultural traditions, and the ways Omanis are known to be some of the most welcoming and hospitable people in the world."
For questions about this or other Cultural Thursday presentations, please contact the coordinator Tracey Kloeckl-Jimenez at 218-855-8183.