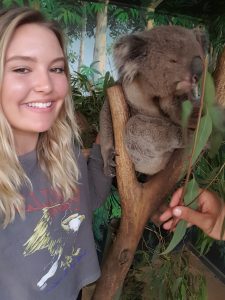 Central Lakes College will kick off its spring Cultural Thursday series with alumna Kylie Geatz, who will speak about her trip to Australia working as an au pair. The event will be held at noon on Thursday, Jan. 17 in the Chalberg Theatre. It is free and open to the public.
Geatz, now a Global Marketing student at Pace University in New York City, will speak on how she was able to both work and travel through Australia during a gap year after high school graduation. As an au pair, she provided childcare in exchange for accommodation and pocket money. With the experience, she was able to immerse herself in the culture and live like a local. She lived in Brisbane, QLD and traveled to Sydney, Melbourne, Cairns, Byron Bay and along with the entirety of the Sunshine and Gold coasts.
Geatz is currently getting her BBA in Global Marketing Management at Pace University, is an active American Marketing Association member, editor-in-chief for Pace University's "Her Campus Collegiate Chapter" and is lining up internships for the spring and summer.
For more information about this presentation or the Cultural Thursdays Series, please contact Tracey Kloeckl-Jiménez at 218-855-8183.
Spring 2019 Cultural Thursday lineup:
Feb. 7 at 12 noon in the Chalberg Theatre.
To recognize and honor Black History Month, the CLC Cultural Thursday Program and the Office of Equity & Inclusion will host Bukata Hayes, executive director of the Greater Mankato Diversity Council. Hayes says we must challenge ourselves to continually "sign up for the heavy lifting necessary to create a more open, civil and just world."
March 7 at 12 p.m. and 7 p.m. in Lecture Hall E354
CLC sociology instructor Gary Payne is attempting to participate in a January peace conference in historic Tehran, the capitol of Iran. Very few U.S. citizens have visited Iran due to the volatile history between the two nations. If Iran approves Payne's visa application, he will present images from the conference at this Cultural Thursday session.
April 4 at 12 p.m. in the Chalberg Theatre
Meg Foster, a senior studying astrophysics and physics at the University of Minnesota, will talk about her nine weeks in Moscow, Russia interviewing scientists for her research on "Soviet Space Race Propaganda: The Role of Women in Space and Science." She will share some of her observations and will also speak about how she independently arranged this study abroad program on her own, but went with 10 other UMN students.
May 2
CLC Spanish instructor Tracey Kloeckl-Jiménez (and students) will present on their March 2019 travel study abroad in Cuernavaca, Mexico. The group visited the ancient pyramids of Tenochtitlán, the canals and floating gardens of Xochimilco, Frida Kahlo's Casa Azul and Hernán Cortés' National Palace. They stayed with local families near the Academic Spanish Language Institute in Cuernavaca and had daily lessons in Spanish language and culture, including salsa dancing and Mexican cooking.