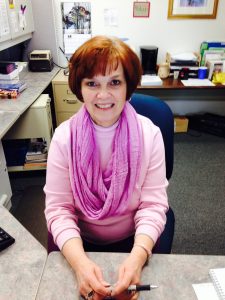 Meet Gayle Wonders. If you've ever been on our Staples campus, you've probably seen Gayle keeping the place humming through her many roles as receptionist, assessment, admissions, school vehicles, incoming and outgoing mail, and operating the campus food shelf and Sunshine Program.
What you like most about your job: I work with students, work with amazing co-workers and I love being a receptionist, I have walk-ins every day with many requests. I live 2 miles from my job and work 4 days a week. What more could one ask for?
Fondest CLC memory: The day that Jill (Staples campus advisor) called me and said she got the job at Central Lakes College. Never in a million years did I think someday I would be working with my daughter. My husband, Jerry, was a Central Lakes College CNC instructor here at Staples until he retired. We are now a family of Central Lakes College employees.
Something people may not know about you: I'm pretty good at waddling like a duck, which many people saw in our CLC talent show! I have 2 daughters and 4 grandkids. I love to play cards with them. I have given up playing ball with them…On the Friday before Easter, I was running a base and pulled a leg muscle. Moral of the story: I can't act like I'm 12 anymore!