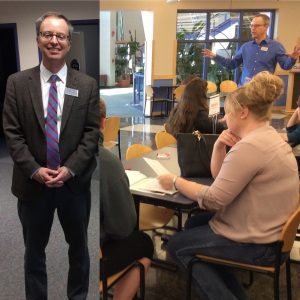 RAIDER SPOTLIGHT FRIDAY!
Meet Paul Preimesberger, our Dean of Enrollment Management and Student Success.
Years at CLC: Two years in September
What you like most about your job: Everything! The Student Services Staff is so dedicated to making the student experience at CLC successful. They inspire me every day. In fact, everyone here impresses me with their student-centeredness. I'm also very excited about the new space we're developing for students in Student Services. Stay tuned!
Fondest CLC memory: Our registration sessions really energize me. I always enjoy seeing our staff and faculty interact with students. You can tell they're passionate about this work, and really enjoy it! Also, my registration red shoes have taken on a life all their own.
Something people may not know about you: Surfing was one of the most fun experiences I've ever had. I haven't seen any surfable swells in the area, yet, but you never know.
Follow me on Twitter: @PPreimesberger