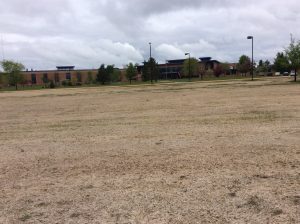 The dead, yellowing grass on the south lawn is part of a well-thought-out project to restore the 2.4-acre area to a more sustainable native prairie planting. It's an effort to both make the campus a more beautiful place and to continue being good stewards of state financial resources.
In June Prairie Restorations, a company from Princeton, will plant seeds of 8 different native grasses and 20 different native wildflowers. There will be 1,000 plants planted and the Horticulture Program will grow 2,000-3,000 more potted plants from seeds to be planted next spring.
Along with being beautiful, the prairie planting will require no irrigation, mowing, or other regular maintenance after the first year. That will save money, save water, and will reduce our carbon footprint. The habitat will also support a wider variety of pollinators, butterflies, and other desirable insects and animals than the turf it is replacing.
It often takes 2-4 years for the planting to develop to its full splendor, but next year we will see a variety of blooming flowers. So keep an eye on the south lawn – it's going to be epic!