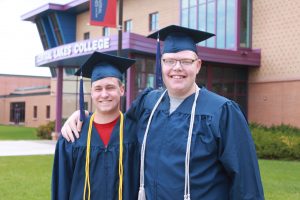 Todd Aydelotte and Jordan Kulzer have overcome a lot for their young ages.
Just 21 and 19 years old, the men graduated just a few days ago from CLC's Occupational Skills Program (OSP), which prepares students with disabilities to work independently and live successfully in the community.
Their journey wasn't always easy, but both came out of it inspiring others.
"Both Jordan and Todd have set the bar high with their extraordinary drive to succeed. In the classroom and the work place both students exceeded program expectations," said OSP instructors Tim Leskey and Patty Sloan.
For Jordan, 19, his challenges started on day one when he was born just weighing 1 lb. 2 oz. After just 3 days of being alive, he had is first surgery, and since then has had 23 different surgeries.
He was a senior in high school when he decided he wanted to attend CLC and join OSP.
"The first two weeks were a little hard but then I found the group of friends that I now hang out with. It's been a very good experience for me," he said. "Both of the teachers are really nice. I really like the job site that I had this year. I worked at Baxter Parks and Trails doing a lot of hands-on work."
"I put my heart into my work," he said. "When I see kids playing on a ball field, it really makes me happy to know that I helped to make it nice for them to enjoy. I really have a lot of passion for my job."
"Jordan has been an exceptional worker for the City of Baxter. His background, knowledge, and skills differentiate him from others. We will miss his positive attitude and know that any municipality would be lucky to have him as an employee," said Alex Hondl, Baxter Parks & Trails Maintenance Supervisor.
Jordan recently started his job as a city park maintenance worker for Paynesville.
Todd, 21, said his work ethic wasn't very good before coming to CLC. But since starting OSP, Todd has held internships at College Square and the CLC Community Theatre, and has held two jobs: One at Greentop Angus as a ranch hand and Billy's as a dishwasher.
"The Occupational Skills Program is probably one of the best programs I've ever been in. I have learned stronger skills in getting to work and staying on task at work," he said. "I've learned better communication skills and that has helped me to have a better understanding of what needs to be done."
Next fall Todd will start in CLC's Auto Mechanics program. He might even join CLC's Diesel Mechanics program after that.
"I'm glad I did the step of OSP before jumping in to the Auto Mechanics Program," Todd said. "It's been a good stepping stone and I feel better prepared to move on in my college career."
Tim Leskey and Patty Sloan said both young men have a strong desire to do a great job and are extremely positive.
"Each always has had a smile to share throughout the school year," they said. "We couldn't be more proud of these two young men and we are sure that their futures will be filled with opportunity."
To learn more about the Occupational Skills Program, visit: www.clcmn.edu/occupational-skills-diploma-2/