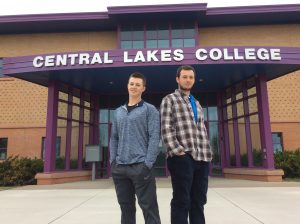 Zack and Brady Houle didn't hesitate running toward the billowing fire. The brothers didn't think twice about pulling their injured neighbor away from the flames as the heat and black smoke surrounded their faces.
It was that "fight or flight" mindset that Brady learned in his Law Enforcement class at Central Lakes College that he said kicked in. It's what saved their neighbor's life, according to the Brainerd Fire Chief.
It all started Wednesday afternoon when Zack, a recent CLC graduate, arrived home from work at about 3:15 pm on East Shore Drive in Merrifield. He waved to his neighbor, who was getting his mail.
Just minutes later, while the brothers were talking inside their house, Zack's girlfriend called saying there was smoke coming out of their neighbor's house. The pair threw on their shoes and ran outside. Brady called 911 as they ran up their driveway. That's when they heard their neighbor yelling for help. The brothers saw him injured, laying about 20 feet from the garage, which was engulfed in flames and spreading to the house.
The brothers didn't hesitate. They ran straight toward the flames to their neighbor. As they grabbed the man, each placing an arm around their shoulder, they could hear small explosions coming from the garage behind them. Then, part of the garage roof fell onto the antique car. Brady remembers hoping it wouldn't explode.
Pulling the hurt man away from the growing flames, Brady asked the him if anyone else was in the house. Luckily, no one else was home.
Brady and Zack got the man to the road just as another neighbor was driving by. She stopped and they put the injured man into the car so he could rest his back.
Looking back on the situation, Brady and Zack are glad they were there.
"You have half a second and subconsciously we both made the decision to help," Zack said.
Brady said he learned all about the fight or flight mindset in dangerous situations during his Law Enforcement classes at CLC. He's always been someone who helps – it's part of the reason he joined the Law Enforcement program.
Zack said his brother's CLC Law Enforcement training made Brady do things he never would have thought of, like call 911 right away and ask if there was anyone else in the house.
Brady agreed. "Just being in the classroom, you get a different mindset… I took a Personal Protections class at CLC where we learned about the reaction system of your brain in high stress situations. That class helped a lot in this moment."
Brady just finished up his first year at CLC. He is working as a security guard at the school and will start an internship soon for the Crow Wing County Sheriffs Boat and Water Patrol. Brady and Zack's parents, Ron and Darlene Houle, are computer instructors at CLC.