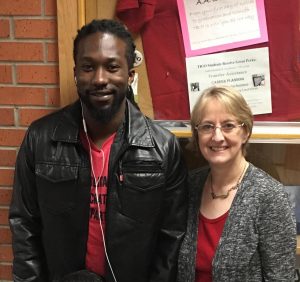 By Osirus Washington
Central Lakes College TRIO program alumnus Rob (Cash) Robinson was recently awarded the 2017 MN TRIO Achievers Award. This is only the second CLC grad to receive this high state honor.
Robinson attended CLC from 2010-13. He was recruited from Florida to play for the football team for the late Dennis Eastman in 2010. Football was a top priority over school for Robinson, but when he was taken off the team, Robinson had no choice but to pick up the slack in the classroom.
But was placed on academic probation after his first year, causing him to leave temporarily. He then joined the TRIO program upon his return, which he says is responsible for saving his life.
TRIO advisor Sue Austin said, "Cash (Robinson) changed his attitude when he came to TRIO. He had a lot of challenges he faced when he came back, but he was willing to change, and allowed us and others to mentor him."
Robinson went on to earn his AA Degree at CLC before transferring to The College of St. Scholastica and earning his degree in social work and organizational behavior in 2015. He is now a counselor/case manager at Mille Lacs Academy in Onamia. He says he owes his complete turnaround to TRIO and his first child.
"TRIO helped me get where I am today because it's a tight networking community, something like family," said Robinson.
Robinson said CLC changed him for the better. When he came in from Florida, he wasn't even sure if he had graduated high school as he was waiting on his test results. He had to get his freedom away from his family and friends in order to succeed, and the TRIO family provided him with the resources he needed.
"I've recommended at least 25 students to TRIO because if it wasn't for them I would've gave up," said Robinson.
Robinson encourages other student athletes to get more serious about their studies. It's important to have something to fall back on after sports because anything can happen.
"Find something your next passion after sports and gain knowledge in it," said Robinson.
Even though Robinson still plays semi-pro football in St. Cloud, he says the people at the college are who geared him toward success. "Central Lakes made me versatile because now I can identify with different crowds," he said.