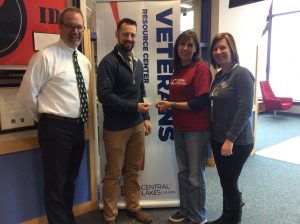 More Central Lakes College veterans will be positively impacted through a $2,000 donation from the Sunrise Sertoma Club of Brainerd to CLC Veterans Resource Center.
The donation came from a fundraiser called "Joe for GIs," held several times over the past couple of months at various locations.
This is the second time the Sunrise Sertoma Club donated proceeds of Joe for GIs to the CLC Veterans Resource Center from the fundraiser. The funds will help the center in daily operations and assisting student veterans.