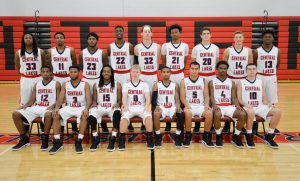 The highly anticipated 2016-17 basketball season is finally here for head coach Jim Russell and the Central Lakes Raiders men's basketball team.
As co-conference champions last season, they posted a 26-4 record on their way to the State Tournament. Their goal: Win State and advance to the National Tournament. But Rochester defeated them in an overtime thriller in the first game of the tournament.
This year, the Raiders are working hard to make sure that doesn't happen again.
"Other teams are praying to make the State Tournament. We have, too," Russell said. In his 19 years at CLC, Jim Russell has never had a losing season. He posts a record of 380-152.
"We're down this year so everyone is going to be coming for us," he said. "They'll try to pressure our guards. They'll do whatever they can to beat us."
It has been a true work in progress for the Raiders coaching staff. With Nick Wiesmann as their lone returning starter, they have to figure out how to win games with a whole new identity.
Russell has done a great job of recruiting players and bringing in talent. He recruited players from Indiana, Ohio, Wisconsin and Minnesota.
The Raiders will open their season on Friday at MSTC in Fergus Falls. Their home opener is Friday, Nov. 18 against United Tribes Community College. We expect everyone to be there. Get out and support your Raiders Men's Basketball team!