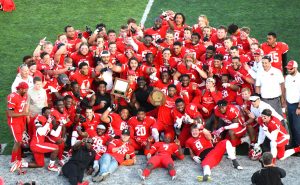 The Raiders celebrated like there was no tomorrow at Husky Stadium after they capped off their perfect season. This one was one for the ages. With each side fired up and as equally matched as they could possibly be, the game was destined to be one to remember from the start. I don't think anyone in the CLC community who seen this one will be forgetting it anytime soon.
The NDSCS Wildcats had the best run defense in the conference coming into the game. Greg Lewis and the Raiders had a different agenda. They committed to the run early and it payed dividends. Lewis racked up 138 yards and 3 touchdowns in his MVP-like performance. He had 30 carries on a Wildcats defense that had allowed just over 50 rushing yards a game. He ran with so much promise on every single carry he got, trucking through and stiff arming defenders. He just refused to be denied.
We knew the Wildcats pass defense was their weakness coming into the game. Since the Raiders committed so heavily in the run game, it opened up everything for Mike Tveitbakk and the passing game. Tveitbakk was able to hit a number of receivers on open routes.
"They didn't know which receiver to cover. I knew coming in this game that they would be focused on me," said wide receiver Mustaful Strong.
Despite Strong being the target of the Wildcat secondary, it didn't stop him from making a big impact. He had 4 receptions for 46 yards. But perhaps the game clinching touchdown: a 15 yard catch on Tveitbakk's final pass of the game. Daryl Waindim had a career day. All three of his receptions were very big plays for the Raiders. He snagged one for a touchdown and fell right before the end zone on the other two.
As for the Wildcats, I have a strong feeling they'll be back next year. True freshman Damario Armstrong had his fingerprints all over this game. When the Wildcat's needed a play to stay in it, he rose to the occasion. He had 3 receptions for 103 yards and gave the Wildcats the little field position they were able to gain with some good special teams returns. Look for him and the Wildcat's to try and get it back next year.
CONGRATS RAIDERS !!!