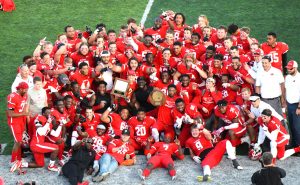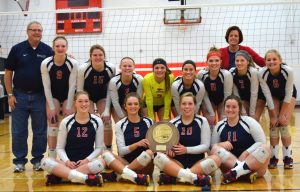 It was definitely a weekend to remember in Raiders athletics! The CLC Football team won the MCAC Conference Title, and the Volleyball team won the Region 13B Title. Here's a closer look at both of those games:
Raiders Football (11-0)
The Raiders finished the season unbeaten with their 36-28 thriller against the NDSCS Wildcats. It was by far their most exciting game of the season for Raider football fans. In a game that featured each team going back and forth, touchdown for touchdown, the Raiders were able to put the icing on the cake and seal the deal. The offense was hitting on all cylinders. They sucked the life out of the Wildcat defense and had their way through the air and on the ground. It was a big day for running back Greg Lewis and quarterback Mike Tveitbakk.
Lewis was there for the Raiders when they needed him most. With starting Running Back Teddy Sherva injured, Lewis carried the Raiders' ground game with 138 yards and 3 touchdowns on 30 carries. Each run exhibited so much passion and aggression. He was in beast mode.
Tveitbakk also had a big impact on the Raiders offense. He balanced the run attack with some big plays through the air. He connected on two throwing scores and had no turnovers.
Raiders Women's Volleyball (21-11)
The Raiders Volleyball team was able to take advantage of their home court advantage. They swept through the Region 13B tournament not losing a single set. They defeated Mesabi Range (3-0) in the semi-finals, then defeated Rainy River (3-0).
Their next stop: The NJCAA Division III National Tournament in Rochester on Friday and Saturday. Rachel Mathias and Britta Torgerson made all-tournament team.