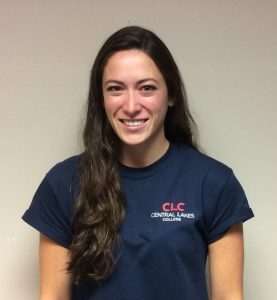 Central Lakes College welcomes Aubrey Barnaby, who was recently hired as a recruiter in the college's Admissions Department.
Barnaby is a graduate of the University of Wisconsin – River Falls, where she earned her Bachelor's Degree in Psychology and minor in Communication Studies. While in school, Barnaby worked as an orientation leader and tour guide.
The St. Cloud native recently moved to Baxter. Prior to CLC, Barnaby worked for Radio Disney as a Road Crew entertainer and team lead. Most recently, she worked as a promotions coordinator for Turnkey Events and Promotions, where she oversaw a group of college performers called the Twin Cities Road Crew.