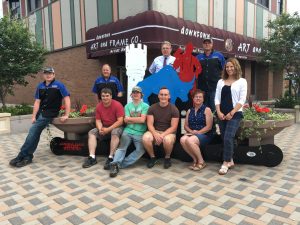 Dynamic duo Paul Bunyan and Babe the Blue Ox are now keeping an eye on the bikes of downtown Brainerd.
Towering over the corner of Laurel and S. Seventh streets, the bike rack features Paul Bunyan, Babe and the iconic historical water tower, all surrounded by a base that resembles a bike chain. It weighs in at 800 pounds and fits six regular or fat tire bikes.
The bike rack was handcrafted by students in the Central Lakes College Welding Program, and was brought in through a partnership with the city of Brainerd, Brainerd Restoration and Gull Lake Sandblasting & Powder Coating.
"When the board of Brainerd Restoration initially developed this project, the goal was simply to integrate public art and the walkable/bikeable movement in Brainerd," said Amy Gray, Brainerd Restoration Board president. "We saw a need for increased bike parking and wanted to meet that need while incorporating the arts. Being able to partner with the city of Brainerd, CLC, and Gull Lake Sandblasting and Powdercoating to bring this part of the project to fruition was better than we could have imagined. This collaboration is a great example of the progress that can occur when we come together as a community."
It was great timing for the welding students at CLC, too.
"The project was a good fit because it allowed our students to use the tools they have been trained on for an entire school year," said David Otto, welding instructor at CLC. "One of the more important pieces is the students were able to interact with the city during the design process."
Mark Ostgarden, Brainerd City Planner, said, "The City Council was very impressed with the talent of the CLC students. It thanks them and their instructors for all the work that went into designing and constructing such a beautiful bike rack. The City Council also recognizes and thanks Brainerd Restoration for the work it did in making the project possible. It is more than bike rack, it is art that will be an attraction in our downtown for years to come."
Brainerd Restoration plans on installing bike racks at four other locations. Another bike rack crafted by CLC welding students will be installed at Crow Wing County's Community Services building. Three other racks will be made by local metal artists.
For the welding students at CLC, making the bike racks was more than just a grade or practice.
"Students will always learn more when they work on a project that they can take pride and ownership in," Otto said. "The racks are great examples of something that they can take pride in and say 'hey, I built that' years later when they are in downtown."
After students created the bike rack, Gull Lake Sandblasting & Powdercoating did the sandblasting and powdercoating. Mike Angland, architect with Widseth Smith Nolting, provided input and guidance during the project.
Other partners of the CLC Welding Program, who have donated materials used for this and other projects on-going basis, include: Clow Stamping, Brunswick, Reyerson, Fab Four, Dane Engineering, Silver Star, Pequot tool & Manufacturing.
Want to know more about CLC's Welding Program?
Contact David Otto at DOtto@clcmn.edu.
About Brainerd Restoration
Brainerd Restoration is a 501(c)(3) working to build our community through innovation, advocacy and collaboration with a current focus on downtown revitalization.