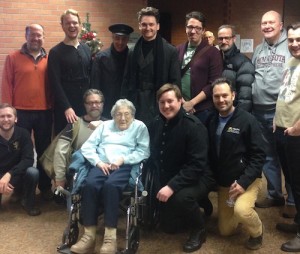 A Little Falls woman's dream came true at one of Central Lakes College's recent theatre performances.
Sonja, a resident of St. Otto's Care Center in Little Falls, had always wanted to see a live play. Through St. Otto's Care Center's "Make a Wish" Program, she was able to do just that.
Sonja attended "All is Calm" at CLC. The musical production was by Twin Cities Theater Latte Da.
The production was "wonderful," Sonja said.
"It was a great joy to see them stop the war and get along and celebrate Christmas peacefully," she said. "The singing in the play was beautiful. This was my first experience at a play and I'd go again."
After the show, Sonja was able to meet the cast.
Sonja said she could relate with the soldiers in the play, as one of her brothers was in the service and her husband served in the Navy during World War II. Later, two of her children also joined the service.