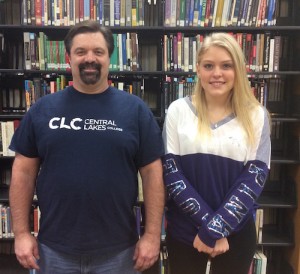 Central Lakes College students Troy Hanson and Brittany Knox were selected to represent the college in the 2016 All-USA Community College Academic Team competition. The competition is spearheaded by the Phi Theta Kappa Honor Society. It recognizes high achieving two-year college students who demonstrate academic
excellence and intellectual rigor combined with leadership and service that extends their education beyond the classroom to benefit society. Twenty team members are named annually, with each receiving a $5,000 scholarship.
Both Hanson and Knox will now be placed in competition for the All-USA Community College Academic Team, Coca-Cola Community College Academic Team, and the New Century Scholars Awards.  Phi Theta Kappa will notify scholars of their placement on national teams by April 2016.
Central Lakes College president Larry Lundblad said the pair will represent CLC well.
"Troy and Brittany were selected based on the strength of their application, their strong academic record and their involvement in the college," Lundblad said. "We wish them the best. These scholarships are quite an honor. They recognize excellence across the nation."