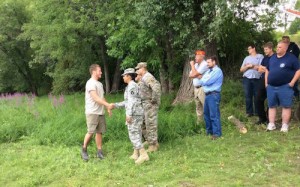 A Central Lakes College graduate and veteran got a hero's welcome this week when he pulled his canoe on the bank of the Mississippi River in Kiwanis Park.
Bartholomew Lindberg and two others were greeted by about 30 city officials, state representatives, and members of the sheriff's office, police and fire departments and many veteran organizations.
Why?
They're canoeing the length of the Mississippi River. It's part of the Mississippi River Warrior Hike Program, where veterans "walk off the war" and take in the therapeutic effects of a long journey. There are seven expeditions veterans can choose from, most being hiking adventures. Lindberg's group is the first in the program to canoe the river.
They started in Bemidji July 20 and landed in Brainerd Tuesday, Day 31 of the trip. They're hoping to reach the end of the river Nov. 22.
Lindberg, a Brainerd native who spent four years as a watercraft operator in the Army, took both welding courses at CLC and earned the Certified Production Technician Certificate. He finished his coursework this past summer before starting his trip.
Being out on the water is a way for Lindberg to "renew his faith in mankind."
"When I got out of the military in January, I had to learn how to trust people again," he said. "When you leave the military, you have a feeling that people are evil. But we're meeting a lot of nice people on this trip."
The steady stokes of the paddle in the water are therapeutic for Lindberg. His mind wanders and Lindberg is able to "face stuff" he might not find a way to otherwise.
The physical toll of constant paddling down the river isn't too bad, he said. Lindberg is experienced in long journeys, though. He hiked the Appalachian Trail by himself in 2009.
Sure, there are a few frustrations along the way in this trip. Like when it's pouring rain and he can't get the zipper closed on his tent.
But Lindberg and his team, Mark Fox and Abby Kaeser, who is documenting the journey through a blog, are thankful for the trip.
The day starts off with a hearty breakfast and they're on the water by 7 a.m. Snacking on beef jerky, cheese and salami, the crew will paddle until sunset until they find a spot to camp for the night.
And it all starts over again the next day with a row of the paddle.
Learn more:
Follow the journey:
Warrior Hike Day in Brainerd
Mayor James Wallin proclaimed Aug. 18, 2015 as "Warrior Hike Day" in Brainerd in honor of Lindberg and his team.