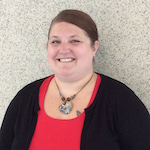 Amanda Small joins Central Lakes College as a Check and Connect coach, working with students with intellectual and developmental disabilities.
Small is one of about a dozen staff working with CLC's TPSID (Transition Program for Students with Intellectual Disabilities) Grant. The grant is a collaboration overseen by CLC, with Ridgewater College and the University of Minnesota's Center for Community Integration.
Small is a CLC alumna and has her Bachelor's Degree in Social Work from The College of Saint Scholastica. She has lived in Brainerd most of her life and enjoys being an active part of improving the community.
Small has worked with youth and young adults for several years in varied capacities, including: Crow Wing County Youth Wellness Initiative administrator, Wellness Educators Youth Training Program director, and PORT Girls Group Home primary counselor.
With a passion for education, Small said she's looking forward to utilizing her connections in the community to continue strengthening the Check and Connect Program.