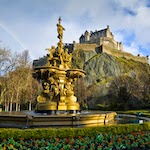 The Central Lakes College Community Band will hold an informational meeting on its 2017 Ireland tour at 7 p.m., Tuesday April 7 in the Rehearsal Hall of Central Lakes College.
Information on the itinerary, costs, methods of registration and payment will be discussed. Free information packets will be available.
The tour is open to people ages 16 and above, either as musicians or travelers.
It includes stops in Dublin, Blarney, Cork, Killarney and Galway. The band will perform four concerts in venues such as the Blarney Castle, the Church of St. Anne, and possibly St Patrick's Cathedral.
Site-seeing tours guided by a professional tour guide will encompass many of Ireland's most interesting and scenic features.
For more information, call Steve Anderson at 218-831-3652.