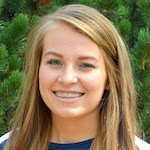 The Central Lakes Raiders, ranked eighth in the NJCAA Division III poll, went up against the Northland Pioneers who entered the Northern Division match Wednesday night ranked fourth with an overall record of 19-2.
The Raiders were looking to avenge a loss at Northland earlier in the season, and to move up a game on the Pioneers in the race to host the Region tournament.
Ashton Kapphahn (photo) knocked down 21 kills, and recorded 33 set assists as CLC won in dramatic fashion, pushing to the full five games for the 3-2 win.
Story courtesy of the Brainerd Dispatch Read More