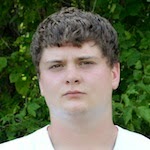 The midpoint of the 2014 season has arrived, and the Central Lakes College Raiders continued their perfect march, moving to 4-0 overall with a 35-32 Northern Division win over Fond du Lac on a day that mother nature dealt everything that she could offer at Findorff Athletic Complex.
The 16th-ranked Raiders, led by Athen Ashton's 65 rushing yards, and Jake Faber's 242 passing yards, jumped out to a 14-0 lead early in the first quarter.
However, CLC needed a fourth-quarter stand from its defense to preserve the 3-point win.
The Raiders' offense failed to hit 40 points for the first time this season, while the defense gave up 20 straight points, but also sacked Fond du Lac quarterback Travis Brown 11 times.
Bill Desrocher (Photo) recorded three sacks while Max Strand and Jake Kassulker each finished with two. Josh Mantel collected 10 total tackles for the game to lead the Raiders in that category.
Story courtesy of the Brainerd Dispatch by Joe Lindholm