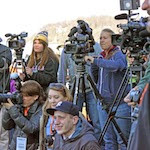 Fall Semester public courses offered at the Brainerd campus beginning August 25.
Video Editing Workflow – VPRO 1110
This course consists of entry-level videography skills used to produce motion pictures from conception to completed video. Students will produce commercials, documentaries and fictional narratives from start to finish. The emphasis is on postproduction techniques – namely, editing. However, basic terminology and strategies of all production aspects will be examined. The three main phases of production will be deconstructed to reveal a film's internal development. Students will divide into production teams and immediately begin creating content. Students will complete the course with one or more portfolio videos.
This course will introduce incoming students to professional camera operations. Safe handling of equipment will be emphasized. Instruction will include standard functions critical for professional-level video & DSLR camera operation; focus, color balance, audio, exposure and power. Introductory shot composition and motion picture sequencing will be examined. A variety of broadcast-level cameras will be explored. This course will introduce students to operations, functions and menus used in current video & DSLR cameras.
Contact the CLC Admissions Office for enrollment information 218-855-8031.