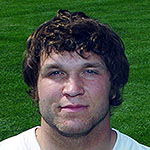 Video footage:
http://youtu.be/9Ij9MwJYj-U
The Central Lakes College football team on Saturday, Sept. 15 pulled off a 31-23 upset of previously undefeated and 16th-ranked Rochester (NJCAA Division III poll) at Findorff Field in Brainerd. Bertha sophomore defensive back Jared Hoemberg intercepted Rochester quarterback Earl Young on the first play of the game. St. Paul freshman Andrew Johnson, the CLC starting quarterback, threw for 337 yards and four touchdowns. Three of those scoring passes went to Indiananpolis freshnman wide receiver Anthony Shelman, who finished with five catches for 161 yards.
CLC's defense held Rochester to 27 yards rushing on 21 carries. Sophomore linebacker Jordan Bialke of Foley (shown) had two interceptions at key moments in the second half and finished with 12 tackles.
Sophomore defensive back Marion Lambright of Whitehall, Wis., stepped in front of a Yellowjacket pass and returned it 49 yards to put the Raiders ahead 25-13 in the third quarter.
Hutchinson freshman defensive lineman Dacotah Thompson and White Bear Lake freshman linebacker Cedric Davis recorded sacks for the Raiders
CLC (3-1) is now in the thick of the Southern Division race for Minnesota College Athletic Conference honors and potential post-season appearances. Rochester, the top-ranked MCAC team, came into the contest outscoring three opponents, 151-8.
CLC, which lost its season opener on a last-second field goal at Northland, next hosts 1-3 Minnesota State (Fergus Falls), Sat., Sept. 22 at 1:30 p.m. in Brainerd. Other Sept. 15 MCAC scores: Ridgewater 28, M State 6; Minnesota West 41, Northland 40; Fond du Lac 32, Itasca 13. Mesabi Range 47, Vermilion 0.