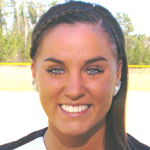 CLOQUET — Kaylie Hanson tripled in Game One and doubled in Game Two to lead the
Central Lakes College softball team to a sweep of Fond Du Lac in a Northern Division
doubleheader Tuesday. CLC is enjoying a five-game win streak. The Raiders won the first game, 12-3, as they pounded out 16 hits. Alanna
Hansen and Carlie Sweet each doubled while Lena Montano and Hanson tripled.
Hansen also capped off her offensive effort with a home run. In the 12-4 Game Two win, the Raiders managed 15 hits. Hanson doubled and
hurler Sam Harting notched her second win of the day. The Raiders moved to 8-6 in
division play. Overall: 9-12. Next: CLC vs. Northland at Thief River Falls 3 p.m. Friday
(2).