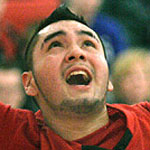 Raiders 80, Blue Devils 55
Central Lakes College's Maurice Hernandez (shown) led all scorers with 21 points to lead the top-ranked
NJCAA Division III Raider men to a 80-55 win over Riverland at Austin Wed., Feb. 8. Brandon Davis scored 14 while Michael Farrington and Kwamaine Johnson scored 10 apiece for CLC. "Mo" added 10 rebounds and Michael eight assists for the 7-1 Southern Division leaders in the Minnesota College Athletic Conference. owns a 22-1 record and next hosts Anoka-Ramsey (16-6) Sat., Feb. 11 at 3 p.m.
Third straight loss
Lindsey Roos scored 11 points and had six rebounds for the Raider women as they
lost 82-42 to Riverland (3-5) in a Southern Division game Wed., Feb. 8 in Austin. It was the third consecutive loss for CLC, now 2-6 in the Division and 8-13 overall. Jalynn Lamb added 9 points, Lena Montana and Caitlin Robinson six each. The Raiders converted just 29% of their shots from the floor (14-48) and 52% from the line (13-25). Next: The top-ranked Rams from Anoka-Ramsey (20-2), defending national champions, Sat., Feb. 11 in Brainerd at 1 p.m.