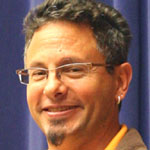 Dr. William Faber, a Central Lakes College natural resources
instructor, has been appointed to serve along with 11 other new appointees on
the Minnesota DNR Wildlife Oversight Committee. His term runs from Dec. 15,
2011 to Dec. 14, 2014. Tom Landwehr, DNR commissioner,
informed Faber of the appointment. He said the committee is responsible for
oversight of the Game and Fish Fund under Minnesota Statutes, section 97A.055,
subd. 4b. The orientation meeting of the
group is scheduled for Dec. 20 in the DNR Central Office, St. Paul. Faber will
meet with Dennis Simon, chief of the DNR Section of Wildlife, and fellow
committee members to begin working on budget oversight and management of game
and fish resources. The New York-born Faber is a native
of Fridley, a 1985 University of Minnesota graduate in Wildlife Biology, and
has a second degree from St. Cloud State University, where he taught for three
years. He is a moose expert who spent 13 years in Sweden
and elsewhere in Europe for doctoral research. Faber is in his eighth year as an instructor at
CLC.