Using Airtame to share your screen and audio
AirTame is a wireless presentation solution now installed in the following classrooms:
Brainerd Campus: C200, C205, C209, C223, C228, C229, C233, C236, E300, E303, E317, E319, E338, E339, E354, E362, E419, W120, W145, W162, W166, W216, W221, W244
Staples Campus: B205, B214, E114, Cafeteria/Commons
Steps to connect:
1. To use AirTame, make sure the projector in the room is turned on.

2. Look for the AirTame app on the desktop or taskbar.
3. Click to open AirTame.
4. After AirTame opens, enter the IP address that appears on your screen.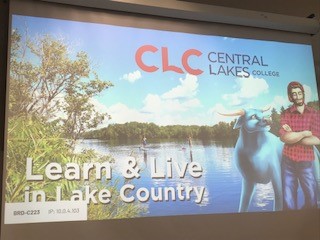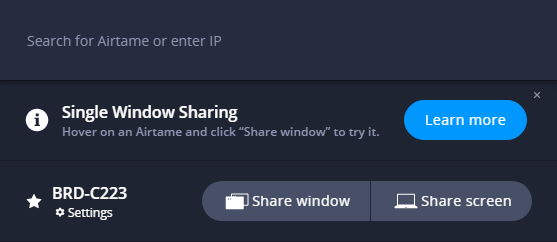 5. You can share your entire Screen, or just a window. If you want to share a window, click 'Window' and then click to select the window you want to share.

To play audio through the system, click turn toggle the audio on or off.
6. When you are finished projecting, click the Stop button. Close your programs, log out of computer and turn off the projector.
PDF Instructions