Foundation News
Joe Plut is a local celebrity and community figure known as "the mad hugger."  Joe created a culture that fostered creative communication at Central Lakes College (formerly Brainerd Community College), where he began teaching in 1965.  He spent his teaching career at the Brainerd Campus and also taught an off-campus course at Minneapolis Community and Technical College on Saturdays in the fall of 2003. He retired in 2001.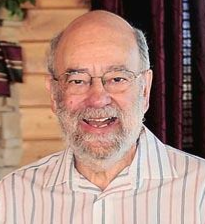 The Joseph Plut Scholarship Fund was started 15 years ago with a $3,000 donation by a former student, Mildred Stave ("77).  With additional contributions over the years, the permanently endowed scholarship fund has reached $41,000.  Over the past years, 50+ students have received a Plut Scholarship to further their education. In early 2013 Joe was diagnosed with prostate cancer and is presently undergoing continued treatment.  It is a great hope of Joe's that he will see his scholarship fund reach $50,000 within his lifetime.
In honor of Joe Plut, please consider making a donation to his scholarship fund.  A gift of any size will help Joe reach his goal and make his wish come true.  So, let's help our friend, mentor and favorite "Mad Hugger" out!  Your gift will also undoubtedly help students achieve their academic goals at Central Lakes College.
Joe recently shared that he has had a grand life, and it shall continue to be so.  He looks forward to turning 80 years old this summer and invites you to his birthday celebration on July 4.  Alumni, friends and community members will attempt the "world's biggest hug" with Joe!  The event runs from 2-5 p.m. at Prairie Bay in Baxter.  The hug is at 3 p.m.!  Free hors d'oeuvres and pizza as well as an open bar.
You can also wish Joe a Happy Birthday and let Joe know if your life has been touched and transformed by his wisdom. Leave comments at https://www.gofundme.com/25ahctw.
Thank you for your support for the opportunity to allow Joe Plut's legacy to live on forever. #madhugger
Lakeland Public Television – LPTV recently shared Joe Plut's story. Watch it now at Local Brainerd Celebrity Joe Plut is Raising Over $50,000 for His Scholarship Fund.