Health and Wellness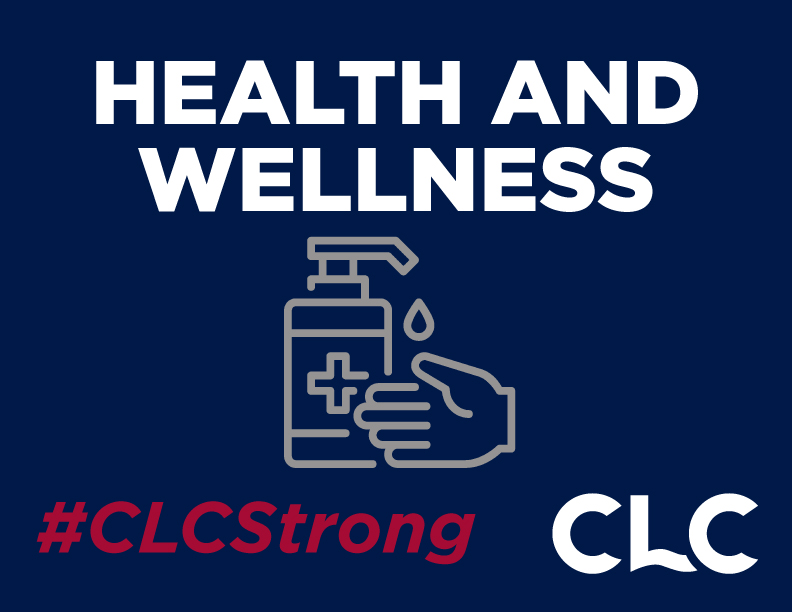 CLC has created a plan to help keep our college family healthy on campus. Keeping social distance and daily symptom screenings will help keep the campus community safer.
The college will work with the MN Department of Health to conduct contact tracing for CLC community members who test positive.
The college has identified the services, programs and initiatives currently available for students and employees to help address their mental health and wellbeing during this pandemic.
Taking Care of Yourself and Others
Face coverings
Central Lakes College will require face coverings in compliance with the Governor's Executive Order 20-81.
People in Minnesota are required to wear a face covering in all public indoor spaces and indoor businesses, unless you are alone. Research has shown that use of face coverings can greatly reduce the risk of infection when combined with other prevention efforts such as social distancing and hand hygiene.
Special considerations and exemptions may apply for those with specific needs.
If members of the general public who are not part of the CLC community enter a campus building and refuse to wear a face covering, they will be asked to leave. This is also true for contractors and vendors.
CLC will encourage compliance by increasing awareness and fostering a spirit of cooperation. For those who continue putting the community at risk with their behavior, corrective and disciplinary action may be taken in accordance with the college's guidelines for employees and students.
Mask Wearing Best Practices
Make sure your cloth mask covers both your nose and mouth.
Take care when putting on and taking off your cloth mask, washing hands after both.
Wash your cloth masks frequently.
Cloth masks are not a substitute for social distancing 6 feet from others. You are most protected when you do both.
When you cannot wear a cloth mask — such as when eating or drinking — maintain social distancing. To maintain safety in classrooms, students and instructors will not eat or drink in class.
Daily Symptom and Temperature Screening
Daily Symptom Screening
Daily symptom screening with the college's website tool, is required for all students and employees coming to campus.
Symptom Screening by Visitors
Visitors will be expected to complete a symptom screening to participate in campus meetings or other activities.
Individual Behavior
The success of recommended health practices will depend on a combination of college action, outlined above, and individual behaviors. As a reminder:
If you are sick, stay home.
Wash your hands well and often.
Carry your own hand sanitizer and surface wipes.
Wear a cloth mask indoors.
Keep 6 feet of distance between yourself and others whenever possible.
Avoid touching your face and cloth mask.
Keep your hands clean: Sneeze and cough into your elbow, and open doors without your hands if possible.
When possible, meet online or outdoors and in larger common areas, not private offices.
COVID-19 Testing and Tracing
CLC is working with local healthcare providers in regard to COVID-19 testing.
Quarantine and Isolation
CLC community members who test positive or have been identified as high risk because of exposure will be expected to self-isolate or quarantine, as directed by health care professionals.