Academics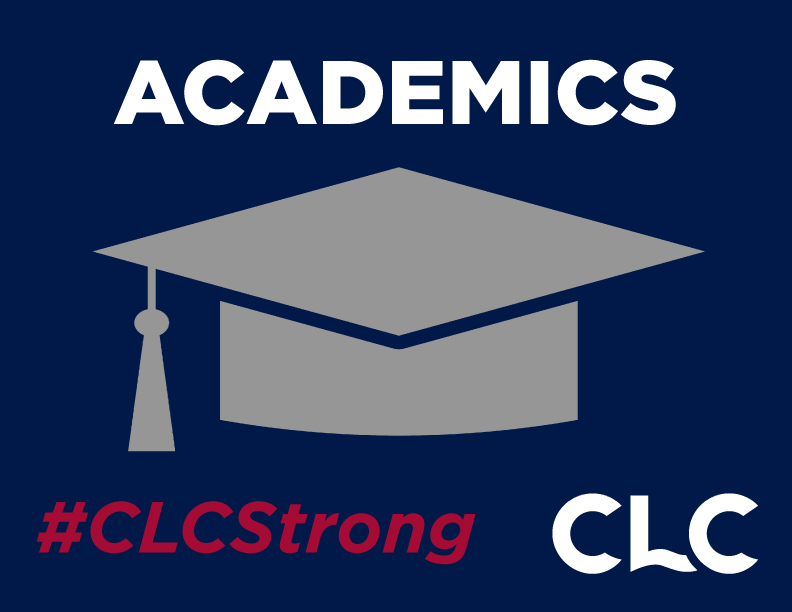 Providing our students a safe, supportive and high-quality learning experience is our #1 goal. Therefore, students may choose to conduct their semester online, in person or as a hybrid of the two. Rooms will be assigned to courses so that when all students registered for that course attend, all classrooms will have limited capacity allowing for social distancing
Every course will have an instructional continuity plan, including a back up instructional plan to allow for instruction to continue in the event of instructor illness.
CLC classes will be offered in six different formats this fall:
On Campus Face-to-Face:
The traditional classroom setting where the instructor and students are physically located in the same place and may incorporate the use of multiple supportive technologies as appropriate.
Online Asynchronous:
Online instruction occurring independent of time or location.
Online Synchronous:
Online instruction occurring independent of location, but at the same time (real time).
Hybrid/Blended:
A form of instruction that includes students from different locations and/or environments (face-to-face, online, IVN, etc.) for synchronous and/or asynchronous instruction. Students should be available on the days and times listed for the course, though the class may meet in the classroom in-person or online-live, while also allowing for release time to work online in lieu of a scheduled meeting.
Live Online:
Uses web conferencing technology to give access to classes from remote locations. This innovative method of course delivery allows flexibility as students balance jobs and family with their education. Student can choose to attend in person on campus or access class meetings remotely. Classes will be streamed some will be recorded for content review. Real-time attendance is required unless otherwise noted.
HyFlex:
These real-time, online classes may include optional in-person components. Synchronous meeting days/times are listed in the schedule (attach delivery option grid)
These formats address the diverse programs and courses offered at CLC and allow faculty to design learning experiences that can shift based on the health needs of the community.
The mode of instruction available for any particular class is partly dependent on the type of course a student enrolls in. For the most part, hands-on technical programs will continue in a face-to-face format with limited class sizes, social distancing and mask requirements. General education classes will be offered in a hybrid format that, depending on the social distancing requirements in place, will allow face-to-face classroom instruction as well as a synchronous online classroom environment (online in real time). This hybrid structure allows instruction to continue should the health needs of faculty or students disrupt the classroom.
Your Semester at a Glance
Course Schedule Changes
Students can change their course selections through the first week of the semester. All schedule changes can be made through eServices. Students should check this site often to find the most up-to-date information regarding course dates, times delivery options and room numbers.
Standard Academic Week
The typical academic week will be used for the majority of classes, meeting between Monday and Friday.
Face Coverings in Classrooms
Face coverings are required for students and instructors in all classrooms. For those who continue putting the community at risk with their behavior, corrective and disciplinary action may be taken in accordance with the college's guidelines for faculty, staff and students.
Individuals with conditions that preclude them from wearing a face covering must contact Accessibility Services.
Labs, Studios and Performance Spaces
There are many kinds of teaching lab, studio and performance spaces. The maximum occupancy of these spaces depends on the nature of activities taking place in them. In teaching labs and studios in which students sit at fixed stations, maximum occupancy requires social distancing of 6 feet between individuals.
In spaces in which individuals must often move around to do their work, students and instructors should make every effort to maintain social distance of at least 6 feet.
Office Hours
Faculty and staff members who interact directly with students may choose to hold office hours on campus while adhering to campus safety guidelines. Space that is too small to be used as a classroom may be an alternative for in-person office hours. If the employee or their student is unable to come to campus, office hours should be held via phone or Zoom.
Student Services
Student Services continues to offer both on campus and virtual support for students. The Campus Welcome Center and Student Link are both open from 8 am – 4:30 pm Monday through Friday, and Zoom appointments can be scheduled here: https://www.clcmn.edu/advising-2/ For a full list of remote services available to students, check here: https://www.clcmn.edu/remoteservices/.