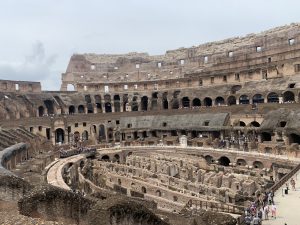 Central Lakes College students and community members recently returned from a much-anticipated international music tour. The group visited Spain, France and Italy via a cruise line to experience European music, art, history, culture and cuisine through a grand tour designed by CLC Director of Bands Jonathan Laflamme. 
"International travel is one of the best educational experiences that students and community members exercise and one of life's greatest opportunities to understand humanity," Laflamme said. "Our CLC Biannual Music Tours allow for travelers to really 'choose their own adventure,' with specific regards to interests and tours within the many cities and countries we visit."  
Initially scheduled to take place in 2020 just as COVID started spreading, the trip was postposed until this year. The travel group consisted of 54 musicians and their loved ones. Musicians were comprised of PSEO, traditional and non-traditional music students, community members involved in musical ensembles and high school band directors that work with CLC through the College in the Schools program. The trip afforded those who traveled an opportunity to grow closer together and strengthen the connection of the musicians through shared and vastly new experiences.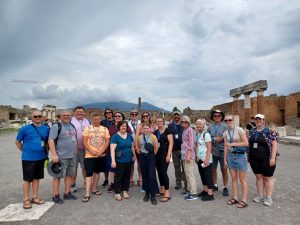 On June 5 they boarded Royal Caribbean's Enchantment of the Seas from Barcelona and experienced five intervening stops across France and Italy, ending with two days in Rome. This allowed for a broad range of musical, theatrical and cultural adventures for each traveler.  
A few highlights from the attendees include: Playing at Monte Carlo, visiting the Parthenon, a guided tour of La Sagrada Familia Cathedral in Barcelona, a hike from Portofino to San Fruttuoso Abbey, visiting La Sagrada Familia, seeing the crypts in Rome, touring castles, visiting holy sites in Italy, the Palatine Hill-the Roman Forum and Colosseum, and visiting Pompeii. 
Laflamme said that the opportunity to witness and participate in culture outside of Minnesota is a pivotal experience to support and promote the development of citizens of the world and to encourage the ability to take perspectives of those different than oneself. He believes deeply in the importance of building empathy through challenging one's preconceived knowledge and that travel is one of the best ways to find such a challenge.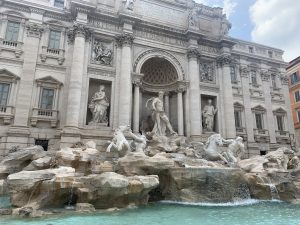 The next international music tour is scheduled for 2025, with a tentative itinerary of the Greek Isles. Interested in joining the trip? Join a Central Lakes College Musical Ensemble as a community member or a student today! Contact Jonathan Laflamme at jonathan.laflamme@clcmn.edu.