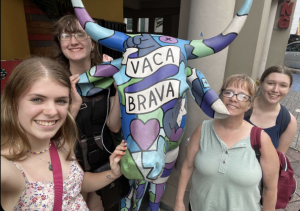 Seventeen Central Lakes College students and one community member traveled to Puerto Rico during spring semester, immersing themselves in the study of the Spanish language, culture and environmental studies topics.  
CLC Spanish instructor Tracey Kloeckl-Jiménez and former Environmental Studies instructor Jason Edens 
organized this Global Studies Travel Abroad program, which was both culturally enriching, authentic and financially accessible for students.   
The participants traveled to San Juan, Puerto Rico and participated in several excursions, in addition to language classes at the Institute for Second Language Acquisition (ISLA). Five of the participants opted to stay with local families, while the rest of the students stayed at a university residence/nunnery or local hotel. 
For the participants, the travel study program proved to be incredibly enlightening regarding Puerto Rican history, local attitudes toward the island's current political and societal issues, the good-natured character of the Puerto Rican people, and the challenge of several environmental issues, including effects of climate change and rising sea levels.  
"I wanted to go on this trip because I wanted to learn about the island and the way people bounced back after that big hurricane," said CLC student Tony Wallace.  
Wallace added that he'll never forget the way his host mom treated him with the utmost respect, and the people he met that were curious about his culture back home in Minnesota.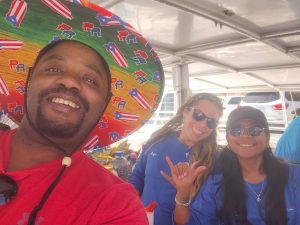 Seven of the students received full or partial scholarships to partake in this program, thanks to the generosity of two local donors. One of these donors, who wishes to remain anonymous, donated an incredibly generous $10,000 toward the students' costs through the CLC Foundation. This donor is a previous CLC student who recognizes how life-changing language learning and cultural experiences can be. She wanted to help reduce financial barriers for other students to have these same opportunities. An additional CLC Foundation fund, the Kurtz-Poland Spanish Scholarship Fund (established by former Spanish instructor Jan Kurtz in collaboration with former Crosby eye doctor Dr. Jerome "Jerry" Poland and other vested community members), was used to help three students afford their tuition expenses to study Spanish this semester.  
The trip itinerary included an excursion to the University of Río Piedras´ Botanical Garden, where the Minnesotans acclimated themselves to the island humidity and heat. The second day, the students explored the Yunque Rainforest–an area in the east-central part of the island–which receives an average of 240" of rainfall annually. Students spent a day sailing and snorkeling near a smaller island off of the eastern coast of the island of Puerto Rico. Group members also had a chance to experience bio-luminescent plankton while kayaking one evening in a lagoon near the city of Fajardo.   
The Central Lakes College Global Studies Department looks forward to offering additional travel study abroad programs in the coming years for both college students and community members. For more information about learning Spanish at Central Lakes College, please contact Tracey Kloeckl-Jiménez at 218-855-8183.  
Contributions to the Kurtz/Poland Scholarship Fund can be arranged through the CLC Foundation. For more information, please contact the foundation director, Kate Adornetto at 218-855-8129 or kate.adornetto@clcmn.edu.