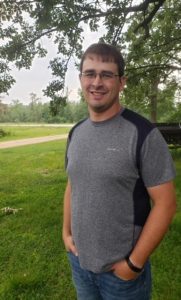 Central Lakes College is pleased to welcome Nathan Wiese as its new Precision Food Production instructor. Precision Food Production is a new program starting in Fall 2023.  
Wiese is a native of the area, growing up in Verndale. He holds a bachelor's degree in Agricultural Engineering and a minor in Soil Science from North Dakota State University. 
He has experience at the Jennie-O Turkey Store as a Maintenance Engineer. He has also worked for East Otter Tail Soil and Water Conservation District as an Irrigation and Nutrient Management Specialist. There, he worked with farmers on nutrient management, conservation practices and technical assistance for irrigation. Wiese is a Certified Crop Advisor, which is accredited by the American Society of Agronomy.  
"It's an exciting opportunity to work with Central Lakes College and the Ag & Energy Center to deliver a hands-on Precision Food Production Program for students in our region," Wiese said. 
Wiese also farms with his dad and brothers growing corn, soybeans, small grains and hay. They operate a 50 cow/calf operation as well. He currently resides in the Verndale community with his wife and two kids. 
To register for Precision Food Production or to find out more information, please visit: www.clcmn.edu/precision-food-production-diploma/.