The Central Lakes Community Performing Arts Center, in partnership with B93.3, is pleased to present three Minnesota country and folk artists – Aaron Simmons, Kelley Smith and Jake Nelson – in an evening of singing and storytelling, led by musician and radio personality Chris Allen. Styled in the vein of the listening room at the famous Bluebird Cafe in Nashville, Songwriters in the Round is a unique opportunity for music-lovers to hear the history and inspirations behind the melodies from these fantastic up-and-coming artists.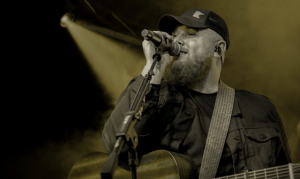 Aaron Simmons, hailing from Stewartville, MN, is best known for his high-energy stage presence and vulnerable songwriting. Simmons released his debut album, "Third St SW" in 2020, which hit #5 on the iTunes Country Albums Chart, and included the breakout single 'That's My Hometown.' His single "Nobody's Home in Wadena" held the #1 position on Spotify's Local Pulse: Minneapolis playlist. Simmons was nominated for New Artist of the Year by the Midwest Country Music Organization.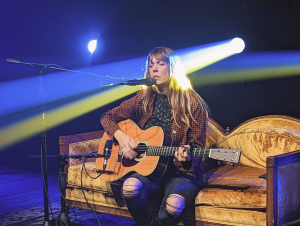 Minnesota folk musician Kelley Smith recently released her first record, Moon Child, just after her 40th birthday. Described as "the musical love child of Gillian Welch and Doc Watson," Smith is a guitar-picker with an old-timey voice, her debut record comes across as a mid-life coming-of-age story that evokes belonging, escapism, long-term love, grief, and her draw to the night sky. Smith has shared stages with roots music greats such as Dave Simonett of Trampled by Turtles, Drew Peterson, and Charlie Parr. 
Jake Nelson, from St. Paul, MN, has been making a splash in the country music scene since 2015. His self-titled debut album was released in 2017 and has been heard on the radio throughout the country and internationally. Inspired by artists ranging from Lee Brice to Phil Collins to Frank Sinatra, Jake Nelson is a soulful alternative country singer.  He has shared the stage with such artists as the Nitty Gritty Dirt Band, Rodney Atkins, Dylan Scott, Craig Morgan, and more.  
This is the first formal collaboration between the Central Lakes Community Performing Arts Center and B93.3. CLCPAC Director Joey Yow believes "this is an exciting opportunity for our two organizations to connect with our collective audiences over our shared love of music and our passion for supporting local artists. Aaron, Jake, and Kelley have worked so hard to achieve their dreams, and I'm looking forward to an evening of wonderful songs and inspiring stories. As a longtime fan of café-style music events like Austin City Limits and NPR's Tiny Desk concerts, Songwriters in the Round is a dream come true, and we're so grateful to B93.3 and our corporate sponsor CTC for joining us to bring this event to the Brainerd lakes area." 
Songwriters in the Round will take place on March 3 at the Gichi-ziibi Center for the Arts. Doors open at 6:30 pm. Show begins at 7 pm. Tickets are $35. Seating is limited. For tickets, visit www.clcperformingarts.com or call the CLCPAC Box Office at 218-855-8199.