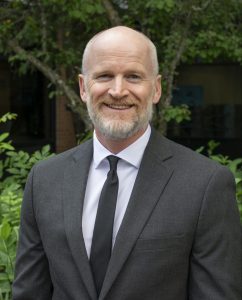 By Mark Johnson, Interim Vice President of Academic and Student Affairs, Central Lakes College 
Attending a community college was the best choice I've made. I'm a first-generation college graduate, so college seemed like a mysterious and complicated place to me. Luckily, my college provided me with an academic plan, so I knew which classes to take and when. And best of all, they connected me to so many out-of-class experiences, and I felt like I belonged to a community where others shared similar interests. I felt more engaged in my college experience, finished my degree, and have even returned to higher education as a career. I'm fortunate, now, at Central Lakes College to help build and support those kinds of experiences for our students, like student clubs, student life activities and athletics. 
At CLC, we intentionally create these student experiences for a lot of reasons. First and foremost, we know these activities offer a sense of belonging and opportunity for engagement for our students. Once students engage, they connect to the college community and our resources. Studies have shown, just as my experiences have shown me, that students who feel connected are more likely to stay and complete their education.  
Student clubs are a popular source of student activity on our campuses. We have clubs for just about anything. If you like it, we probably have a club for it, such as diversity, creative writing, audio recording, hip hop, e-sports, karate, and so many clubs from academic programs. If you don't see a club you're interested in, we can help you start your own!  
CLC clubs are such a great leadership opportunity for students. Student clubs hold events, fundraisers, awareness campaigns, and make a difference in the community. The Psych Club, for example, hosted the Crisis Line and Referral Service on campus to raise awareness of their services. The Marine & Powersports Club, each year, hosts a drive for Coats for Kids, which helps get warm clothing in the hands of folks before the cold weather hits. Our American Sign Language club helped with a potluck to help students and our deaf community. Finally, our Heavy Equipment Program participated in Day of the Dozers, an opportunity to educate people about the construction industry and a fundraiser for the Children's Hospital. 
If you want to see future leaders, look no further than the group of students who lead as a voice for their peers in the CLC Student Senate, which is located on both campuses. Students can find great leadership opportunities here. In fact, our Student Senate was recently recognized with LeadMN's 2022 Student Senate of the Year award.  
Our Student Life program holds a lot of fun events on campus, too, like Halloween costume competitions, music concerts, and free food get-togethers. They host resource fairs, and they sponsor amazing trips to Minnesota Twins games or snow tubing at Mount Ski Gull. Student Life also uses its platform to promote important civic duties like voting. 
If you love competitive athletics, CLC has the best athletics programs around. We offer football, baseball, softball, volleyball, and men's and women's basketball. We even just added a Trap Shooting team to Raider athletics. Even if you don't compete in these, attending the games and cheering for the Raider team is also a lot of fun! 
All CLC students are welcome to use our newly renovated weight training and fitness room, as well as our yoga studio. Physical wellness is an important part of being successful in college, and we make sure students have the resources they need. 
Like I said, I was lucky that I had access to experiences like these when I was in college, and I'm proud that CLC offers such extraordinary opportunities for student engagement, in addition to a top-notch, high-quality education. I encourage you to check out CLC in person. I'll see you on campus!