The Dick and Lynn Carder Family Fund at the Central Lakes College Foundation will impact even more college students, thanks to an additional gift from their children, Coleen (Ann Turnbull) Carder, Steven (Karen) Carder, Brian (Carol) Carder, and Roxanne (Robert) Lueck. 
The fund was first established in 2015 in memory of Lynn Carder, awarding a scholarship to a non-traditional CLC nursing student. Following Dick Carder's recent passing, the family made an additional gift of $21,000, and amended the scholarship to include an additional recipient for a horticulture student. From the beginning, education was important to both Dick and Lynn. All four of their children graduated from Brainerd Public Schools and continued their education at Brainerd Junior College (Central Lakes College).  
"When individuals, and families, decide to create a scholarship in memory of a loved one, such as the Dick and Lynn Carder Family Fund, it becomes an extremely meaningful process," said CLC Foundation Director Kate Adornetto. "We become connected to the family and their stories, and ultimately, we get the opportunity to share their legacy through the gifts they leave." 
For the Carders, passion for education and personal growth has always been a part of their lives. When Lynn was in her 50s, she earned her LPN degree at CLC. She had been working in a clinic since her 20s, preparing patients to see the doctor and had the skills required. But it was important to her to acquire the knowledge and understand the "why" of the treatment for the illness.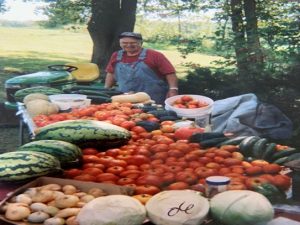 Dick's passion for horticulture stemmed from his friendships with the Crow Wing County Master Gardeners. Over the years, he grew an abundance of plants and exhibited his vegetables and flowers at the Crow Wing County Fair, winning many blue ribbons. 
Scholarships have a tremendous impact on students. It teaches students early on about community, philanthropy, and the mission behind the Central Lakes College Foundation. It also creates a unique opportunity for students to be able to one day pay it forward.  
"Many of our fundholders are alumni or have strong connections to CLC," Adornetto said. "Donors can also choose to fund a scholarship already in existence that holds personal meaning, so there is opportunity for past recipients and community members to give at any level."     
For more information about the CLC Foundation, please visit www.clcmn.edu/scholarships/.