After 24 years at CLC, Martha Kuehn, Dean of Liberal Arts and Sciences is retiring. A familiar face is taking over the important role: Current CLC math instructor Anne Nelson Fisher. We sat down with both leaders to get their thoughts.
First, we start with outgoing Dean Martha Kuehn.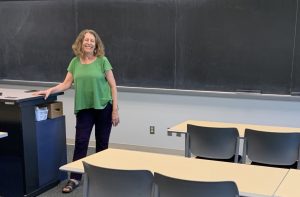 Fill us in on your time here at CLC. 
I was hired as an adjunct psychology instructor in September of 1997, 5 days before fall quarter began. I had completed my master's degree in 1996, and had many years of experience teaching yoga, but this was my first classroom teaching.
In spring of 1998, there was national search for a full-time psychology instructor position, and I was hired.  I taught psychology at CLC for 17 years.  During this time, I also served as the Liberal Arts Division Chair, and chaired the Academic Affairs and Standards Council as well. This leadership and curriculum experience served me well when I applied for the position of Dean of Liberal Arts and Sciences in 2014. Again, there was a national search and I was hired.
So, over my 24 years at CLC, I transitioned from being an unknown adjunct instructor with an office in a closet to the beautiful office of the dean. What a journey!
What growth and enhancements have you overseen during your tenure as dean? 
During my deanship, I have supported strengthening our academic offerings from developmental education to the Honors program. I led the group that established the PASS program, which offers supplemental instruction, nutrition and counselor support to our students in developmental education.  I also worked with our faculty in Reading and Math to implement our Developmental Education Strategic Roadmap, a data-driven revision of our developmental education.  I helped to bring Adult Basic Education to our campus, which has improved the success rates and reduced costs to students in our dev ed courses. Student success has been my motivator for many years.
I have also supported our Honors students, working to appoint an Honors coordinator and assisting with the development of this program. I'm proud of our Honors program and the students who grow through their leadership skills in this program.
I served on the Psychology Transfer Pathway team, and then implemented multiple transfer pathway degrees at CLC. These degrees make transfer from CLC to state universities work very smoothly, so that our students are accepted with junior status in their major program.
I have also been an innovator, from supporting and developing OER to helping to design our Live Online course delivery system. I have guided our eLearning work from the old technology of ITV to teaching online via Zoom. Fortunately, we were using Zoom to teach Live Online classes before the pandemic hit, so we were well positioned to pivot to online delivery when Covid forced us to temporarily halt traditional classroom instruction.
What are you most proud of during your time as a dean? 
I'm also proud that CLC was the first Minnesota State college to offer our students a Z-Degree. I have led our pioneering Open Educational Resources efforts, and through the work of our devoted faculty and staff, we have saved our students over $1.8 million in textbook costs so far.  Providing our students zero-cost online textbooks means that we freeing our students from the burden of paying for expensive commercial textbooks through years of student loan payments. This makes a tangible difference for our students, both today and in the future. Additionally, when faculty choose to use an OER that they have tailored for our classes and our students, our students are the winners.
What do you feel is your impact on CLC and liberal arts and sciences? 
During my deanship, I have had the opportunity to hire many people, and they are my legacy at CLC. I hired about 50 staff and faculty members over the 7 years I have been the dean. I'm very proud of the wonderful people that I have been able to bring into CLC.
During my sabbatical in 2012, I developed a course in Positive Psychology that hundreds of students have benefited from over the years. I'm grateful to have had the opportunity to develop and teach this course, which uses the science of well-being to help people to learn to be happier and thrive as human beings.
I have supported multiple international travel study trips, and had the opportunity to go along on some of these. I'm so happy that CLC students have opportunities to travel abroad and benefit from visiting other locations and cultures, and I hope that this travel will resume in 2022!
I loved teaching psychology, and the years that I spent in the classroom were happy ones.  Sharing my love of psychology, helping students to learn, and guiding them towards careers in the field was very fulfilling. I was a pioneer in technology, developing my own website in 1999 to support my classes. I also founded the Psychology Club in 2001, and this group has continued to work to help others and create community on campus since this time. I think that my love of teaching and innovation is what led to me being named a CLC Outstanding Educator in 2012.
What do you look forward to do in retirement?  
I look forward to more travel, and spending more time with my adult children. My husband and I are planning a driving trip out west for this fall, and we will bring along our little dog.  I also plan to take up reading fiction again, a hobby that has lapsed while working in a job that has required a great deal of nonfiction reading! In fact, I hope to have more time to indulge in my hobbies of knitting, gardening, and photography, along with volunteering. I hope to become a grandmother soon, and I'm eagerly anticipating this next phase of life.
What are your hopes for CLC and liberal arts and sciences after you've retired? 
I'm hopeful that liberal arts and sciences will continue to evolve and remain relevant as the world changes, while maintaining the traditions that have sustained quality education for so long.
It has been my honor and privilege to serve Central Lakes College for the past 24 years. This college not only helps people who want to change their lives, it is also a wonderful place to work.  I will miss it!
Next, we chat with incoming Dean Anne Nelson Fisher.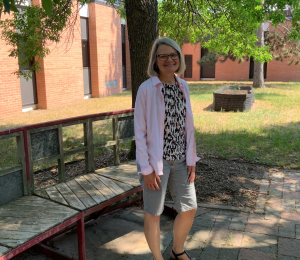 Fill us in on your time here at CLC.
I began teaching as a temporary part-time math instructor starting in the fall of 1998, and took on a full-time, permanent teaching role in the fall of 2012. I have taught all of our college level, technical, and developmental math courses at one time or another, and I have participated in curriculum development, committee work, union leadership and College in the Schools collaboration throughout my career.
Why were you interested in the dean position?
While I have found teaching to be a very satisfying vocation, I have always considered the idea of doing something else in my work life. I am drawn to being a part of decision-making processes and problem-solving, and this position will give me those opportunities on a daily basis.
What will you bring to the position?
My long affiliation with Central Lakes College gives me a great deal of background with our people, processes, and curriculum, so that I can begin the work of the Dean immediately. Also, I have the ability to see situations from many points of view, which is an advantage to reaching mutually agreeable ends in solving problems.
What are your goals as dean?
The Liberal Arts and Sciences division of the college is often seen as providing students with "general" education. I would like our division to help students see this curriculum as pathways to specific bachelor's degrees and career fields; I want to help our faculty think about and determine the best balance of in-person and online instruction; and I want to work with the rest of the college community to increase enrollment in all of our departments. The process of applying and interviewing for this position gave me the opportunity to look back at my teaching career with pride. I am humbled and grateful for the support of so many of my colleagues as I look forward to new challenges.