Central Lakes Community Performing Arts Center's Cultural Arts Series will conclude its outdoor fall concert series with two high powered events on October 3 and October 10. Both of the 2 pm matinee shows feature artists familiar to both area and national audiences.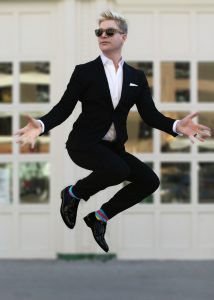 First up on October 3 is Shaun Johnson's Big Band Experience. Front man Johnson is an Emmy award-winning crooner (and lead singer of the internationally known vocal group, Tonic Sol-fa). The Big Band Experience indelibly stamps vocal jazz and swing with a contemporary punch. The Minneapolis Star Tribune called Johnson 'A retro nerd of Rat Pack vintage; his performances go for the gut in rousing fashion." The Big Band Experience can be seen on their very own, nationally televised PBS television special, "The Spirit of the Season." Johnson has been described as "at once more risky than Buble, more modern than Sinatra."
Center Director Patrick Spradlin called this one of the more inventive and highly entertaining shows he's presented. "I've had Shaun here on numerous occasions with Tonic Sol Fa, so I was aware of how incredible he is as an a capella singer. But it wasn't until I caught a showcase performance of the Big Band Experience at an arts conference did I realize that his abilities go far beyond Tonic."
The eight-piece band that backs Johnson's electric vocals include artists who've played with the likes of Natalie Cole, Aretha Franklin, Wayne Newton, Johnny Mathis, The Four Tops and Bobby Vinton. Johnson, in addition to his multiple Grammys, has shared the stage with Jay Leno, Jeff Foxworthy, Garrison Keillor, Shawn Colvin, 'Weird Al' Yankovic, and Jerry Springer, to name a few.
"To hear a big band treatment of Rhianna, Sinatra, and then kick into the theme from Spiderman is one experience you won't want to miss," said Spradlin. "The BBE gives a new take on both standard favorites and contemporary songs. There's no one else like this."
October 10 sees the George Maurer Quartet conclude the outdoor series. "We presented George and his trio back in February before the pandemic closed our doors," said Spradlin. "They were such a hit we thought, why not bigger? And maybe better!"
"Dress smart, act casual, look like you know what you are doing, and wait for somebody to count to four." That's the George Maurer Quartet's motto, and it fits. The group mixes just the right proportions of refinement and relatability as they play straight-ahead jazz with their trademark lighthearted flair.
Pianist/composer/arranger George Maurer is a well-known composer and arranger in the performing arts. His talents have taken him all over the world, with performances with Eric Clapton, and arrangements for renowned musicians from Bobby Vee to many symphonies across the U.S. George was awarded a McKnight Fellowship in Composition in 2014. His quartet consists of George Maurer, piano; Matt McIntyre, bass; Mike Lauer, guitar; and Scott Chabot, drums. The quartet's Brainerd performance will feature Minneapolis vocalist Leslie Vincent and selections from her solo CD 'These Foolish Things.' Critical reception of the CD was glowing: "These Foolish Things is a showcase of Vincent's trademark wit, soulful vocals, and riveting aural and stage presence."- Twin Cities Arts Reader; "Vincent possesses an incredible and unique voice" – Cherry & Spoon.
The events will all take place outdoors on the south lawn of the Brainerd campus of Central Lakes College. "We staged two musicals outdoors this summer," noted Spradlin, and had very good attendance. The thought was, we have the stage all set up, why not use it for other events as well."
Spradlin pointed out that the outdoor events follow all recommended health protocols. "We're limiting seating to no more than 250 people according to state guidelines. All seating is marked so that audience members are socially distanced. We have hand sanitizers on site. Other measures are found on our website."
One required protocol for all audience members in attendance is the completion of a COVID health screening tool. "The survey is online, takes less than a minute to complete, and should be done on the day of the event," said Spradlin. "We do have paper copies of the screening tool on hand, but it's recommended that audience members complete the survey online to avoid delays at the box office tent."
Tickets for these events are available from the theatre's box office by phone during business hours of Tuesday and Thursday, 10 a.m. to 2 p.m. or online at www.clcperformingarts.com
"We're also offering a live stream ticket for those who can't make it to the shows," said Spradlin. "Maybe you're not able to leave home, maybe you're a snow bird who will be in another state, or maybe you'd rather have a close group of family or friends over to watch together. Our high-quality live stream ticket makes it possible to enjoy the show from home." Details on the live stream ticket will be available at the CLC Performing Arts Center's web site, www.clcperformingarts.com