Dr. Hara Charlier
President of Central Lakes College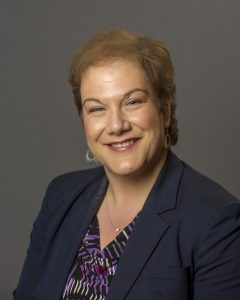 It's incredible to think that we're nearing the end of the year already. At this time of celebration, hustle and bustle, it's easy to get swept up in the busyness of it all.
One of the things I love about December is looking back at all of the successes and impactful moments of the year. It has been such an exciting year – full of growth, a continued focus on students, and partnerships.
In 2019, we stabilized enrollment, added new programs, sent hundreds of graduates into the region and grown in capacity to better serve our students. We've hosted countless performances and exhibits in the arts and held conferences and fairs to promote awareness about heath and careers. We are fortunate to work with those who care deeply about others. Our students and colleagues contributed thousands of volunteer hours in our communities. We are proud that the College was recognized as a Great College to Work For and that the Central Lakes Community Performing Arts Center, which has been housed at CLC for 13 years, was voted No. 1 in the Brainerd lakes area yet again. This year we are truly Raider proud, as our athletic teams celebrated success on the field and on the court. Most recently, Raider football took the 2019 Conference Championship and Raider Volleyball placed 5th in the nation. What a great year indeed!
All of these good things happening are the result of two powerful forces coming together. The first is the amazing people who are Central Lakes College – nearly 300 passionate colleagues who put students first. The second comes from partnerships –businesses, agencies and organizations that come together in such a unique way here in central Minnesota. At CLC, we know we accomplish nothing alone. We leverage strengths, talent and resources by working with generous partners in every corner of the college. I want to share just few of those partnerships – they are making things happen for our students and our communities!
This year, we've focused on making sure our students have everything they need to succeed. With 47 percent of students reporting being food-insecure, that often means focusing on basic needs. We recently partnered with many local organizations to revamp and expand our food pantries, such as Second Harvest, North Central Food Bank, Crow Wing Energized, The Outreach Program, Costco, Target, Walmart, Lakes Area Food Shelf Coalition, Lakewood Church, Pointway Church, Pan-O-Gold Baking Company, Prairie Bay, South Long Lake Church, 104.3 The Pulse and 106.7 WJJY.
This special effort is led by our Student Life Department and has the very appropriate motto of "Eat Well, Study Well!" Students have access to a wide range of healthy options in a welcoming environment. And, it's working! This semester, an average of 400 students are visiting the pantries each week. Because of those partnerships, our students have the fuel they need to succeed. Of course, none of this would be possible without such generous partners.
Sometimes partnerships take a form that is a bit more… flashy! Just this month, Viking Land Harley-Davidson partnered with our Marine and Power Sports Program. They donated eight absolutely beautiful Harley-Davidson 500 motorcycles to expand our programming. This will allow us to train our students with an emphasis in Harley-Davidson, and it wouldn't be possible without dedicated faculty, advisory members, and generous partners at Viking Land.
Many partnerships have been around for a long time. These partners can be counted on, year after year, to provide foundational support for our work. One example is Ziegler CAT Equipment. They've been great supporters of both the Diesel Equipment Technician and Heavy Equipment Operation and Maintenance programs. Each year, Ziegler makes generous donations of equipment, time, advice, and internships provide students great opportunities in both of these exciting career fields.
Perhaps one of our most unique partnerships is a pilot project with Brainerd High School (BHS) – the BrightFutures Program. Through this program, 2019 BHS graduates who qualified for free or reduced lunch were awarded a BrightFutures scholarship to cover CLC tuition for one year, a book stipend, and were provided with an academic coach. Due to this partnership, 16 students are enrolled in CLC this fall in a wide variety of programs. Thank you to the CLC Foundation and our generous donors for making these scholarships available, as well as to our colleagues at ISD 181 and BHS for their dedication and partnership on behalf of our collective students.
These are just a handful of examples of truly amazing collaboration that benefit local businesses, community organizations, the local economy and, of course, CLC students. It's impossible to list all of our partners, but we want to thank you each for your hard work to make our communities better places.
Our region is special for many reasons. The unique willingness to come together, break down silos, and leverage resources is at the top of my list. From all of at Central Lakes College, happy holidays. We look forward to partnering with you in 2020!