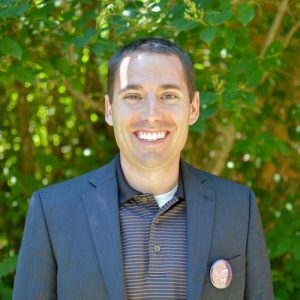 Central Lakes College's Nick Heisserer has earned the Strategic Enrollment Management Endorsement from the American Association of Collegiate Registrars and Admission Officers (AACRAO). Heisserer's name will soon appear in the national registry.
Heisserer is among an elite group of only 24 individuals nationally to earn this Endorsement, and the first person from Minnesota.
This Endorsement signifies that Heisserer has developed skills in the field of strategic enrollment management to meet the current and future challenges in the industry. Proficiencies in a variety aspects of enrollment management have been achieved.
Heisserer currently serves as the Director of Admissions & Registration CLC. Prior to joining CLC, Heisserer served as a high school teacher and coach. He has held numerous positions at CLC as the Assistant Director of TRIO/Upward Bound, a Faculty Instructor for the Business and Computer Technology Departments, and Registrar. Heisserer earned a Master of Arts degree from the College of Saint Scholastica in Duluth, Minnesota and a Bachelor of Science degree from Bemidji State University in Bemidji, Minnesota. He is currently pursuing an Accounting Certificate from Northwest Technical College in Bemidji.
About the Endorsement
AACRAO's Strategic Enrollment Management Endorsement Program (SEM-EP) provides a well-defined, self-paced professional development program and career advancement track for in-service enrollment service professionals. The endorsement is a unique credential in the field and provides assurance of a strong foundation and understanding of enrollment management functions in a higher education setting.  This endorsement is a national acknowledgement of enrollment management professionalism.
About the Program
Through a series of educational experiences with defined learning outcomes, SEM-EP is an accepted structure that underscores a set of uniform activities guided by association and industry best practices and resources. Admission to the program is competitive.
About AACRAO
AACRAO is a non-profit, voluntary, professional association of more than 11,000 higher education professionals who represent approximately 2,600 institutions in more than 40 countries. Its mission is to provide professional development, guidelines, and voluntary standards to be used by higher education officials regarding the best practices in records management, admissions, enrollment management, administrative information technology, and student services. AACRAO represents institutions in every part of the higher education community, from large public institutions to small, private liberal arts colleges.
National Registry:
aacrao.org/events-training/online-learning/sem-endorsement-program/sem-ep-national-registry