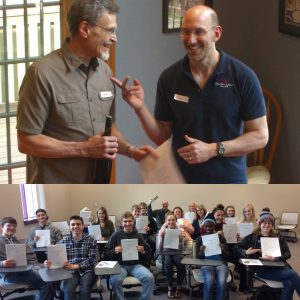 RAIDER SPOTLIGHT FRIDAY!
Meet Adam Marcotte. You'll find Adam around campus teaching English courses or touting the pure awesomeness of the Honors Program.
Position: English faculty, Honors Program Coordinator
Years at CLC: 7
What you like most about your job: Community. Period. To be more clear, CLC is the most vibrant, enthusiastic, respectful, and fecund context I've ever experienced, and helping others learn and learning from others (whether they're colleagues, peers, and/or students) makes my day.
Fondest CLC memory: I don't think I can narrow it down to just one. Every year there are moments that I will always remember, but those moments do have one thing in common: personal transformation and agency. We have amazing students at CLC who, despite challenges in their lives in addition to the ones our classes, work hard to improve themselves and contribute to their community…our community. It may be a hyperbolic, but the future of our democracy depends on people standing up, asking (and answering) questions, and taking their citizenship seriously. Witnessing (perhaps facilitating) those moments is humbling and profound.
Something people may not know about you: It's no secret that I dally with classic sports cars alongside grammar, poetry, and research, but what may be a secret is that I love how seemingly incongruous these passions are and how much fun it is drawing connections between writing an artful line in a poem, pondering a line of inquiry, and lining up for the apex of a corner!