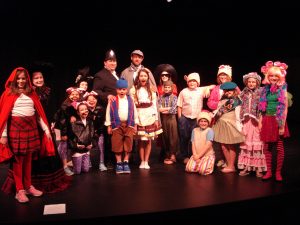 A cast of local kids, joined by a few adults, will hit the stage when Brainerd Community Theatre presents 'The (Almost) Totally True Story of Hansel and Gretel,' June 8-10. Performances are nightly at 7 p.m., with an additional 1 p.m. matinee on Saturday June 10. All shows are in the Chalberg Theatre on the Brainerd campus of Central Lakes College.
Everyone knows the story of Hansel and Gretel. How these two poor children were abandoned in the forest by their evil stepmother, how they discovered a house made of candy, how the owner of the house was a wicked witch who locked them up, and how the two escaped and lived happily ever after.
Well, that's not quite the entire story. As told by a fairy godmother named Streptococcus, we learn that what we thought was true isn't so. Sure, Hansel and Gretel were abandoned in the forest. But what happened after that, as told by Streptococcus, is something else altogether.
It seems that Hansel and Gretel weren't the innocents we've been led to believe. They were actually fugitives being tracked by Inspector Wombat and Sergeant Ringworm of Scotland Yard. During their time in the forest, it seems they wreaked havoc on the lives of the Three Little Pigs. They brought distress to the Three Bears and stole cookies from Goldilocks. They tormented Little Red Riding Hood and the Big Bad Wolf. And that wicked witch in the house made of candy wasn't really so wicked after all. They caused chaos and confusion wherever they went.
This different take on the familiar story is directed by Laura Marsolek. The cast of child actors includes Austin Asher, Lauren Asher, Hannah Ausland, Willa Borchert, Ava Clair, Oliver Clair, Maddison Franzen, Ethan Johnson, Alexis Loosbrock, Anakin Miller, Jasmine Patnoe, Autumn Paulus, Caleb Pence, Lillian Pringle, Tatiana Roberts, Emerald Scearcy, and Layla Wallace. Adult actors in the production include Jesse Brutscher, Bri Keran, and Marc Oliphant.
Scenery for the play is designed by Tim Leagjeld. Dawn Marks designed costumes, and George Marsolek acted as both technical director and designer of sound and lighting. Shawna Sylvester is stage manager.
Ticket for 'The (Almost) Totally True Story of Hansel and Gretel' are available from the CLC Theatre Box Office at (218) 855-8199 or online at www.clcmn.edu/arts