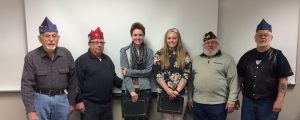 Two Central Lakes College Nursing students received a surprise in class this week: Four representatives from the 40 et 8, American Legion walked in the door with a $500 scholarship for each of them.
The students selected were Amanda Belin and Josica Conrad.
Pictured from left: Jim Mark, Larry Hammill, Josica Conrad, Amanda Belin, DewAyne Collins and Dale Carry.
Watch the surprise delivery here: www.facebook.com/pg/centrallakescollege/videos/