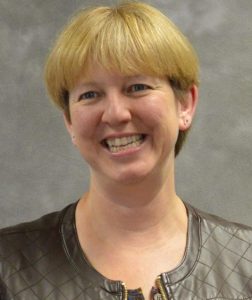 Central Lakes College Communications instructor Kari Frisch was awarded the 2017 Minnesota State Board of Trustees Award for Excellence in Teaching.
The Board of Trustees Awards for Excellence are system-level honors conferred annually to recognize professional achievement and to encourage the ongoing pursuit of excellence. The award proclaims, on behalf of the entire system, the Board of Trustees' pride in the dedication and accomplishment of faculty, who provide instruction that prepares students for their professional, scholarly, and civic lives.
"Kari is a member of an elite class of faculty – those who take personally the work of student success to provide both an extraordinary education and an equally extraordinary environment to connect students with rigorous content," said Hara Charlier, president of CLC. "She is one of the most dedicated and engaged instructors with whom I have had the privilege of working. Kari has certainly made many contributions to Central Lakes College and Minnesota State. Her level of commitment to her college and her students inspires all of us to reach higher, do more, and change more lives."
Frisch was selected after a long process. Campus award committees recommended nominees to their campus president, who then forwarded a single nominee for each award to an award review committee consisting of faculty, staff, and campus leadership from across Minnesota State. Based on the committee's review, the Board of Trustees selected the final honorees. Frisch is one of only four instructors throughout the Minnesota State system to receive this high honor.
Evaluation criteria include teaching strategies and materials; content expertise and professional growth; assessment of student learning and performance; and service to students, the profession, the institution, and the Minnesota State system. This is the 11th year this award has been presented.
CLC has a history of Board of Trustees Award for Excellence in Teaching award winners. Frisch joins recipients Adam Marcotte (last year's award recipient), Darci Goeden and Betsy Picciano.