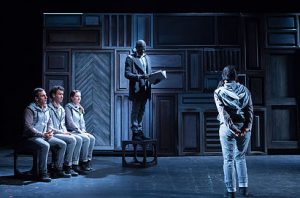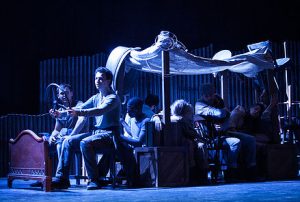 Theatre lovers will get a rare opportunity to see two professional productions on the same day when The National Players perform 'The Giver' and 'The Grapes of Wrath' on Tuesday, May 2. The performances are part of the Central Lakes Community Performing Arts Center's Cultural Arts Series, and will be held in the Chalberg Theatre on the Brainerd campus of Central Lakes College.
'The Giver' will have a 1 p.m. curtain. 'The Grapes of Wrath' will perform at 7:30 p.m.
Adapted from the Newberry Award winning book by Lois Lowry, 'The Giver' is set in a "utopian" future where society has eliminated pain and strife by converting to "Sameness," a plan that has also eradicated emotional depth from their lives. The play's protagonist, young Jonas, inherits an unusual career: to receive and keep the memories of his community's past. Lessons with his elder predecessor, The Giver, teach Jonas of love, war, and all of life's unknown joys and pains. As his oppressive world continues unchanged, Jonas must decide whether to keep these secrets or upend his community.
Set in the heart of the Great Depression, 'The Grapes of Wrath' follows the fictional Joad family, a family of tenant farmers who work their land for a living and pass it down through generations. When the Great Plains become the Dust Bowl, their crops fail and they are forced off their property. Packing their belongings into one rickety truck, the family sets off for the promised land of California. Their struggles and determination to survive are at the core of this powerful story.
'The Grapes of Wrath' is adapted by Frank Galati from the John Steinbeck novel. Steinbeck's story of perseverance against the odds won the Pulitzer Prize for literature. Galati's stage adaptation won a Tony Award as Best Play.
"This is a terrific opportunity for area theatre-goers," says Series Director Patrick Spradlin. "These are two extraordinary pieces of dramatic literature performed by a top-notch theatre company."
He is referring to The National Players, a touring company based at the Olney Theatre Center in Maryland, just north or Washington, D.C. Founded in 1949 by a priest who was head of the Catholic University drama department, its mission was then, and remains, 'to stimulate young people's higher thinking skills by presenting classical plays in surprisingly accessible ways.'
"We've hosted this company before with a different Steinbeck work," says Spradlin. "Their production of 'Of Mice and Men' was incredible. I still hear people comment about that experience. For this tour, we've scheduled an extra performance of 'The Giver' for middle school students from Forestview."
Tickets for either or both shows can be purchased from the CLC Theatre Box Office at (218) 855-8199, or online at www.clcmn.edu/arts
The National Players are sponsored by VFW Post 1647, Holiday Inn Express, and LaVonne Danzl. The entire CLC Performing Arts Center season is made possible in part by an operating grant from the Minnesota State Arts Board, thanks to a legislative appropriation from the Arts and Cultural Heritage Fund.