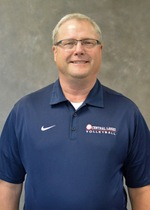 Some of Minnesota's most inspiring and influential student-athletes, coaches and athletic leaders will be recognized at the Annual Minnesota Girls and Women in Sports Day event on Wednesday, February 1, at the Minnesota History Center in St. Paul. The 2017 award ceremony will honor 20 individuals, groups or programs that will receive awards in five separate categories.
Among the recipients is Ken Miller, Assistant Volleyball Coach at Central Lakes College. He will be awarded the Special Merit Award for his work at North Country Region Volleyball and at CLC.
Ken currently serves as the Associate Executive Director and Junior Coordinator for North Country Region USA Volleyball. He has also served as the Head Coach for the Central Lake Junior 18's. Miller has impacted hundreds of young people through work with the sport of volleyball. Miller has received honors and accolades throughout his coaching career including having coached six different teams at USAV Junior Nationals; having coached at the NJCAA Division III National Tournament 10 times in the last 14 years, including winning the NJCAA National Championship in 2007. Miller was awarded the Eagle Scout Junior Olympic Outstanding Clinician Award from USA volleyball in 2009 and received the Meritorious Service Award from North Country Region Volleyball.
Miller stated, "I am very honored to receive this award and I am very grateful for the privilege of working with and having the support of so many people, including my family and Jane Peterson, to help make working with girls and women in sports such a joyful part of my life."